Curriculum
The curriculum for the New Mexico Geography Ph.D. Program is designed so that students can complete their degree in as little as four years of full-time study.  The curriculum builds from the existing Master's programs in geography at UNM and NMSU, leveraging the significant teaching expertise of the two faculties and the classroom facilities of the two universities to offer a robust and well-rounded Ph.D. curriculum.  The program includes a suite of doctoral-level seminars, and students will be able to take additional graduate courses in other departments on the two campuses.  Although students are not required to take courses outside the two departments of geography, we expect that many doctoral students will take advantage of offerings in other UNM and NMSU departments, including biology, Earth and planetary sciences, economics, anthropology, civil engineering, community and regional planning, statistics, and surveying.  A number of these non-Geography courses are explicitly included in the program curriculum as electives, while others may be counted toward a student's program of study with the approval of their doctoral advisor and the director of the Ph.D. program.  The doctoral curriculum is described in the following sections, and can also be viewed in the following table.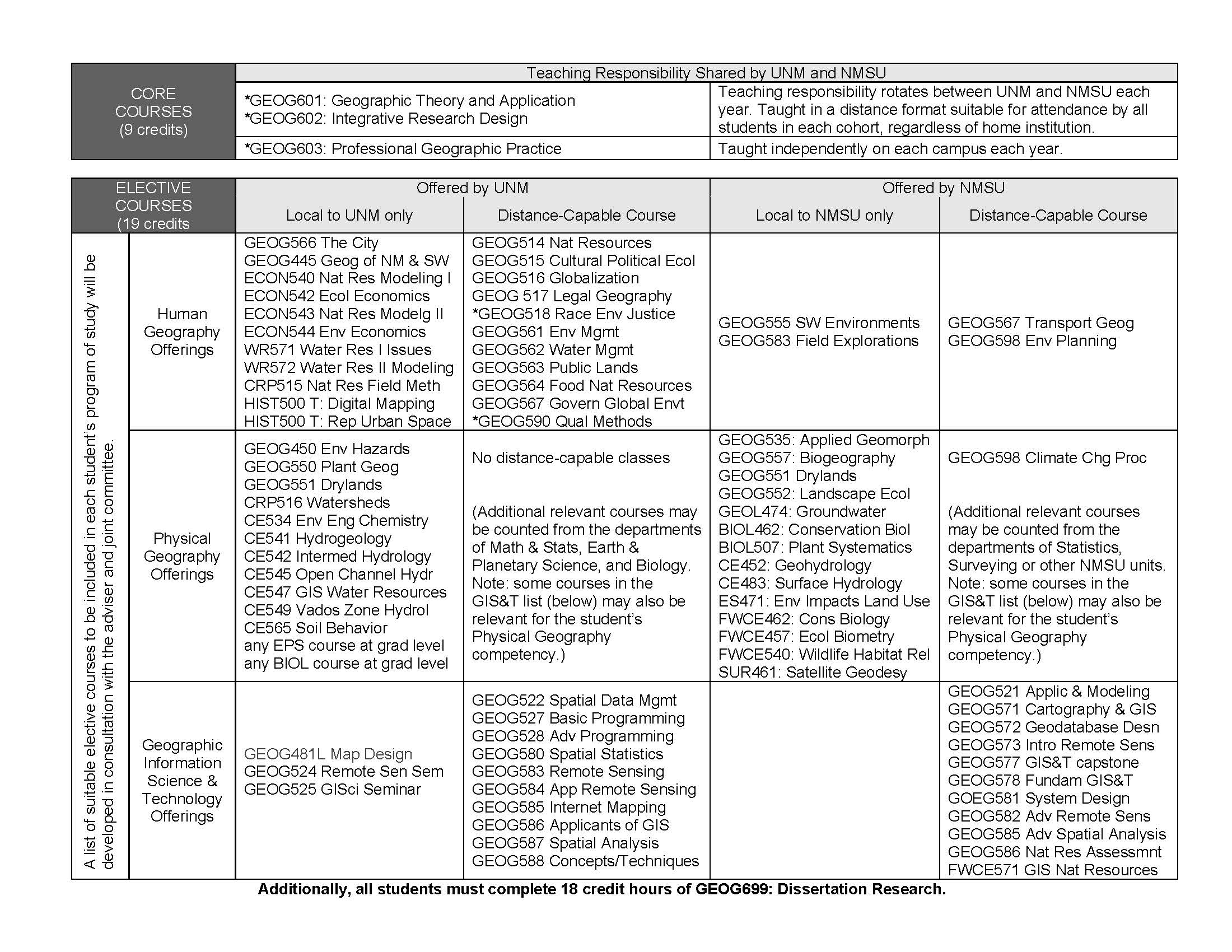 Program Learning Goals
The primary objective of our teaching and mentoring is to produce graduates who are well prepared for professional careers within and beyond academia.  Broadly, we intend for all students to graduate with:
Broad capability in the discipline of geography, with a critical understanding of how specific areas of theoretical, methodological, and practical expertise relate to scholarship in other areas of the discipline;
Advanced competency in the design and implementation of original research;
Ability to engage in contemporary problem solving; and
Professional skills in communication, teaching and mentorship.
Program Requirements
To achieve these learning goals, we have adopted the following basic requirements that students must complete to earn the Ph.D. degree:
Students must maintain of an overall GPA of 3.0.
Students must complete all core courses with a grade of B or better.
Students must completion of 48 credit hours of graduate-level coursework (500-level or higher), including 18 credit hours of dissertation credits.
Students must demonstrate competency in three subject areas: human geography, physical geography, and Geographic Information Science & Technology (GIST). The doctoral committee will evaluate existing competencies in a first-semester diagnostic interview and will then provide individualized guidelines for the student's program of study that lead to successful demonstration of these competencies.
To advance to degree candidacy, students must: 1) pass written comprehensive exams prepared by their doctoral committee that test competency across the discipline of geography; and 2) pass an oral exam that requires the student to defend a research proposal, demonstrate research expertise, and address any concerns identified during the evaluation of the student's written exam.
Students must complete a written doctoral dissertation, and successfully defend their dissertation orally and publicly. Due to the interdisciplinary nature of the joint doctoral program, we expect that dissertations will exhibit variable formats, but in all cases a dissertation must comprise a unified body of original research, as guided by the doctoral advisor and committee.
Core Courses
All students in the New Mexico Geography Ph.D. Program must take a series of three core seminars that are designed to provide training in the integrative research approaches that are at the heart of the program.  UNM and NMSU will share responsibility for teaching these courses, with the first- and second-semester core courses taught using a nontraditional delivery method that includes classroom meetings on both campus, field trips to other locations, and seminars that can be accessed from either campus via distance-learning technologies.  This approach will ensure that all first-year students are able to engage with both campuses and faculties early in their tenure in the program, providing ample opportunity to make progress on committee formation, research topic selection, and research design.  The final core course will be taken in the student's second year and will be taught locally on each campus.
Short descriptions of the core courses are provide here:
GEOG 601: Geographic Theory and Application – This course provides a traditional first-semester overview of geographic history and philosophy, but it does so within a framework that incorporates significant focus on the relationship between theory and praxis. Since this relationship is critical to learning in the joint doctoral program, GEOG 601 establishes intellectual and practical expectations for new students. This course will be offered every fall semester.
GEOG 602: Integrative Research Design – This course provides a comprehensive introduction to research design in geography, guiding students through the completion of a literature review, the development of research questions or hypotheses, and the elaboration of appropriate research methodologies. Unlike traditional research design classes, this course focuses explicitly on the integration of qualitative and quantitative methods to conduct interdisciplinary research.  This focus will provide research training that addresses the core focus of our program: human-environment dynamics.  This course will be offered every spring semester.
GEOG 603: Professional Geographic Practice – This core course focuses on a variety of professional development topics that prepare students for teaching and applied community engagement projects. All students in this course will receive training in professional communication, professional ethics, and grant proposal writing.  Depending on their individual professional goals, the course will allow students to undertake practical training in a variety of areas that range from academic teaching to applied policy work to scientific communication.  All students in the joint doctoral program are expected to engage in applied projects as part of their research design, and this course will lay the foundation for these pursuits.  Unlike GEOG 601 and GEOG 602, the final core course will be taught independently on each campus, to maximize the potential for faculty-student interaction on specific location-based project planning.  This course will be offered every fall semester.